LEADERSHIP MATERIALS
ORACLE: THE WISDOM OF THE KNIGHT
(YEAR 3 OF THE HEROIC MAN'S JOURNEY)
PLEASE NOTE: The contact information found on the Oracle Disc 1 menu screen is incorrect. Please use the contact information below instead:
phone: 1-800-777-0305
email: info@knights21.com
LESSON SLIDES
(TRAIL 1 – 24)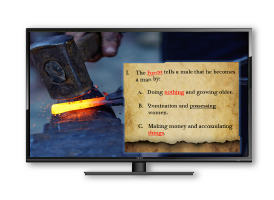 Click the following links to download the PowerPoint slides for Oracle Trail 1 – 24. Use this resource as a guide if you choose to present the trails yourself rather than watching the DVDs.